How is this Seminar Unique?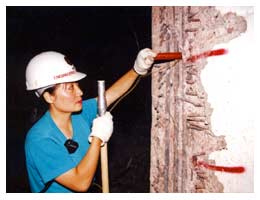 BigBlast, to our knowledge is the only seminar in the world to teach the design, science and safety of implosion. This all-inclusive seminar is covered in 2 or 3 days by instructor Anna Chong. Ms. Chong has over 15 years experience as majority owner and field manager of ENDE.
BigBlast brings to the seminar a very select group of guest speakers who are experts in their specialty. Guests include a seismologist, explosive manufacture representative and insurance representative. All speakers have extensive experience and will address many issues including site evaluation, product selection, insurance protection and claim assessment. They will be sharing real life experiences which will enhance and reinforce your learning.
You will acquire an in-depth knowledge of implosion by analyzing actual case studies accompanied by an extensive collection of photos from ENDE's projects. The analysis will detail the requirements for a successful implosion with easy to follow illustrations and animations. You will leave the seminar well equipped to capitalize on your educational experience. We invite you to come learn and earn with BigBlast.